Keep local businesses thriving with employee ownership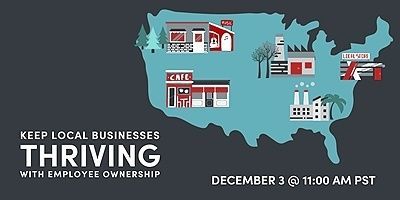 Project Equity, Cambridge Local First, American Independent Business Alliance (AMIBA) and Asheville Grown present information on how locally-owned businesses can thrive with employee ownership.
Local businesses are the backbone of our communities. They are facing significant challenges due to the COVID-19 crisis. Regrettably, many of these locally-anchored businesses are at risk of closing simply because of a global crisis that froze demand and stalled cash flow and requires constant shifting and planning for an uncertain future. Add to this the challenge that baby boomers own nearly half of privately held businesses with employees in the United States. Cities and regions need to understand the risk of the "Silver Tsunami" as these business owners retire. The risk is that these businesses will not be retained locally—either because they quietly close down, are sold to out of area buyers or simply do not have a succession plan.
THE EMPLOYEE OWNERSHIP SOLUTION
Employee ownership increases engagement, dedication and ingenuity, which are key to business success, especially during this uncertain time.
EMPLOYEE OWNERSHIP CREATES MORE RESILIENT BUSINESSES
Higher sales and growth - 2% higher sales and employment growth year after year (NCEO).
Lower unemployment -In normal times, employee-owners are six times less likely to be laid off,; 50% less likely in the last two recessions (Rutgers).
EMPLOYEE OWNERSHIP PROVIDES MANY BENEFITS TO THE BUSINESS AND THE OWNER
*Preserves legacy in the community
*Provides fair sales price
*Owner can stay involved if desired following the sale
*Creates more worker stability and lowers turnover
*Grows employee engagement and productivity