SBA and Defense Alliance Host "Legacy Transformation for Small Business"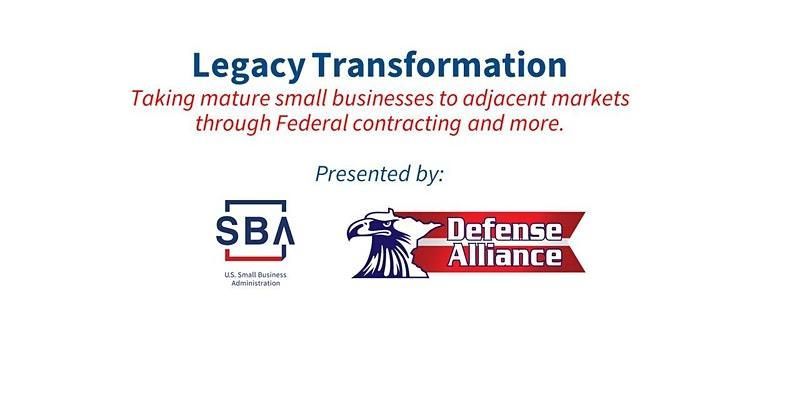 egacy Transformation – Taking mature Small Businesses to Adjacent Markets Through Federal Contracting and Other Opportunities
About this Event
Join the SBA's Minnesota District Office and Defense Alliance for a no-cost one hour webinar:
"Legacy Transformation – Taking mature Small Businesses to Adjacent Markets Through Federal Contracting and Other Opportunities"
Many existing small businesses, particularly those in manufacturing, face increasing pressures to innovate and diversify to remain viable in an increasingly competitive global marketplace. This webinar will present strategies and tactics to leverage existing capabilities and grow new ones to pursue adjacent markets and ensure growth. Attendees will learn about:
Ways to pursue Federal R&D contracts to grow new commercialization paths
Opportunities in Federal contracting for expanding into adjacent markets
Resources available to enhance small business manufacturing capabilities and certifications, marketing expertise and commercialization of new innovations
Processes to enhance and change existing small business strategic planning
Ways to re-envision and pursue new commercialization paths
Agenda
Introduction by the Minnesota District office of the U.S. Small Business Administration (SBA), Brian McDonald – SBA Minnesota District Director
Legacy Small Business Transformation – Overview, Opportunities and Resources , Chip Laingen – Executive Director, Defense Alliance
Strategic Planning and Commercialization Processes for Transformation, Norbert Biderman – Owner, Growth Enterprises and Senior Business Development Executive, Defense Alliance
Case Study – Teamvantage, Inc., Randy Kvalheim – Development Engineering Manager, Teamvantage
Case Study – Minnesota Wire , Paul Wagner – Chairman and CEO
Note: Defense Alliance is funded by the SBA as a Regional Innovation Cluster (SBA Contract number 73351019C0008)
SBA makes the American dream of business ownership a reality. As the only go-to resource and voice for small businesses backed by the strength of the federal government, the SBA empowers entrepreneurs and small business owners with the resources and support they need to start, grow or expand their businesses, or recover from a declared disaster. It delivers services through an extensive network of SBA field offices and partnerships with public and private organizations. Brian McDonald is the District Director for the Minnesota Office
Defense Alliance accelerates commercialization for technology products and services, and contributes to regional economic development by supporting small businesses in the Upper Midwest. The Alliance is a resources partner for the U.S. Small Business Administration (SBA) as a Regional Innovation Cluster (RIC), and contributes to the vibrancy of the defense industry and the national technology base in various market areas such as: power and energy, strategic natural resources, cybersecurity, and others. CDR Chip Laingen, U.S. Navy (Ret.) is the Executive Director.
Growth Enterprises is a consulting firm that provides inspired outcomes through market insights, growth strategies (core & adjacent), innovation & commercialization, business model design & transformation, brand building, strategic account management, program/project management, offset/countertrade, and, networking/matchmaking. Its owner, Norbert Biderman, is a multi-industry thought-leader in the processes and practices that ensure successful commercialization of high technology.
Teamvantage is a Forest Lake, Minnesota-based state-of-the-art, custom contract manufacturer and injection molder providing creative solutions to a myriad of unique manufacturing challenges in various industries. Randy Kvalheim is the company's Development Engineering Manager who has led much of Teamvantage's growth into adjacent markets.
Minnesota Wire is a custom designer, developer and manufacturer of electrical cable and interconnect assemblies for multiple markets. Much of the company's growth, and its current position as the leader in re-imagining electrical conductors and shields, from medical applications to defense to space, is the result of its strategic transformation through defense R&D contracts and product commercialization. Paul Wagner is the company's Chairman and CEO.