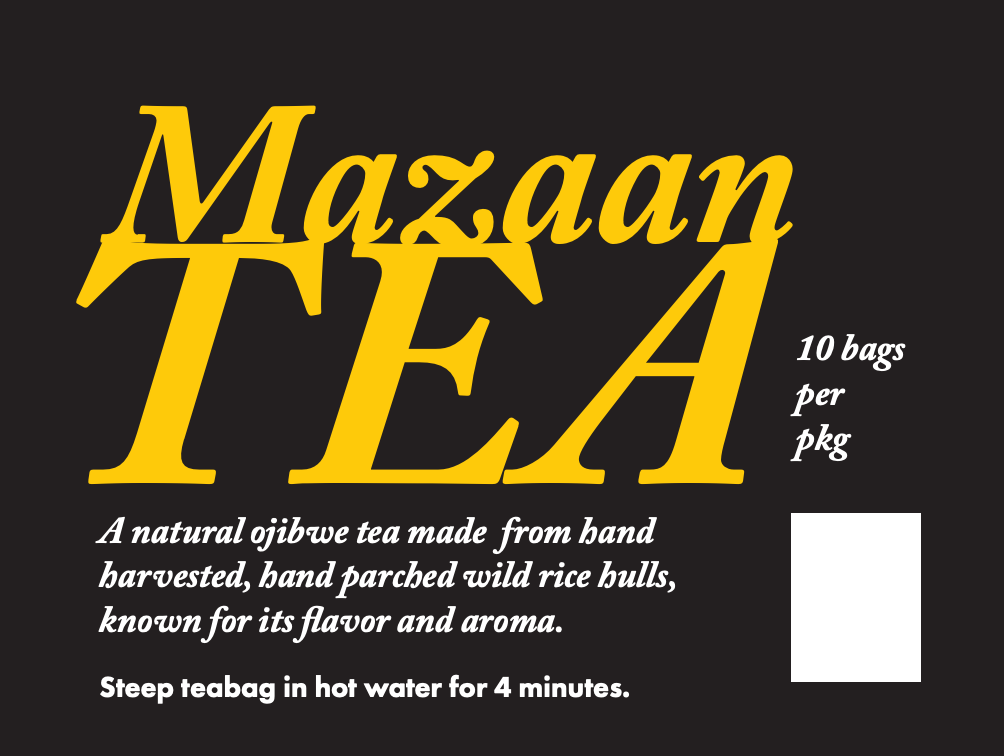 Mazaan Tea Takes Family Tradition to New Level
Dani Pieratos is an enrolled member of the Bois Forte Band of Ojibwe, but currently lives near the Lake Vermillion Reservation in Northern Minnesota - just down the road from the Bois Forte Indian Reservation near Orr, Minnesota. She's a member of the Board of Directors for the Minnesota Indigenous Business Alliance and the Director of Sales for Harvest Nation, an indoor farm based in Northern Minnesota serving small communities with fresh, affordable, nutrient-rich produce throughout the year.
She is promoting a self-made product that is inspired from her childhood, a tea made from the hulls of manoomin - the Ojibwe word for the colonial description of "wild rice". She coined it Mazaan Tea. Mazaan is the word for the hull, or protective casing, of manoomin in the Ojibwe language. Tea in its noun form is aniibiish, however its first meaning is leaf, which means that the Ojibwe people have been harvesting and making tea from a variety of plants and medicines long before the arrival of Europeans. Although we may know this, it is reinforced and lives through the language like many other words.
Although the definition of mazaan is the protective casing of manoomin, to her and her family it is tea. "It was called a delicacy among my family," says Dani. "I want people to experience Anishinaabe foods and drinks are part of everyday life and for it to be normal again."
Unlike the popular black, green and oolong teas most consumers are familiar with, Mazaan Tea is technically an herbal tea because it's made out of the rice hulls that protect manoomin. How those hulls are collected vary, but ultimately they come from the harvesting of rice like times past. 
To Dani, however, Mazaan Tea is an answered prayer. She has always wanted something to share that comes from her family that reflects the old ways in a times of uncertainty with struggles for global power and climate change all while struggling to understand the identity of being an Anishinaabekwe in today's times. "I wanted to make my family proud," says Dani. "This is it and I want to say chi-miigwetch to my grandparents for sharing this tea."
However, creating Mazaan was a process that took a lifetime to perfect, shares Dani. 
"When I was a little girl, my grandmother tried to make me drink this tea," says Dani. "Back then, they put a lot of broken rice in the tea and to me it tasted like rice and I didn't like it." So, recently she went to different harvesters to ask for the mazaanag (hulls from rice) because she didn't want a manoomin flavored tea. 
The difference is the taste. "It doesn't taste like rice," says Dani. "It actually tastes like tea." 
And others are noticing the difference. "One of the most memorable comments I've heard from someone who has tried Mazaan Tea is that it reminds them of their childhood," says Dani. "It makes me so happy to be able to share this medicine with others."
With its timeless use, manoomin towers over other grains when it comes to nutrition of protein, minerals, B vitamins, folic acid, and carbohydrates. It has been called a medicine by many peoples and now people can enjoy its medicine in another way, Mazaan Tea. 
For more information on Mazaan Tea, contact Dani Pieratos at dani@harvestnationinc.com or visit her Facebook at facebook.com/dani.pieratos.