Cooperative Development & MNIBA
Minnesota Indigenous Business Alliance (MNIBA) and our partner Cooperative Development Services (CDS) are pleased to make available this 2020 publication: Beginning the Cooperative Journey Together: A Guide to Indigenous Community Cooperative Development.  Authored by MNIBA, with content and editing support from CDS, the Guide is intended to support collective and cooperative approaches within Indigenous communities. 
The Guide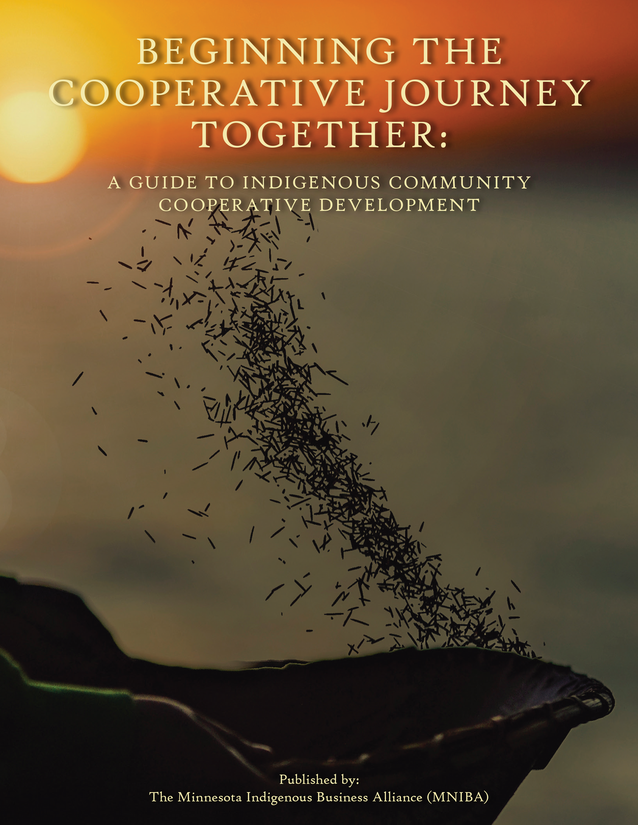 Illustrates how Indigenous languages can be used in guiding the design of a cooperative business that aligns with Indigenous culture and practice.

Demonstrates how a cooperative resurgence and a "new cooperativism" model is emerging where cooperative structures are being utilized by communities as agents of decolonization, self-determination, and revitalization of Indigenous languages and Cultural Lifeways.

Highlights cooperative stories, important contributions and best practices among Indigenous communities throughout Turtle Island.

Introduces recommended protocols for cooperative developers interested in working with Indigenous communities.

Presents a series of policy recommendations for Tribal Governments, Tribal Colleges and Foundations to support cooperative development and growth.

Celebrates the history and practice of collective and cooperative ownership among Indigenous peoples throughout Turtle Island.
The publication was completed through grant funding from the USDA Socially Disadvantaged Group Grant program.
Download MNIBA's Indigenous Community Cooperative Development Guide (printable) here.

Download MNIBA's Indigenous Community Cooperative Development Guide (2-page Reader) here.
Our impact
Artists, Entrepreneurs, and Organizations Served
Sign up for our newsletter!